Two Shoes Sound Better than Action Right Now!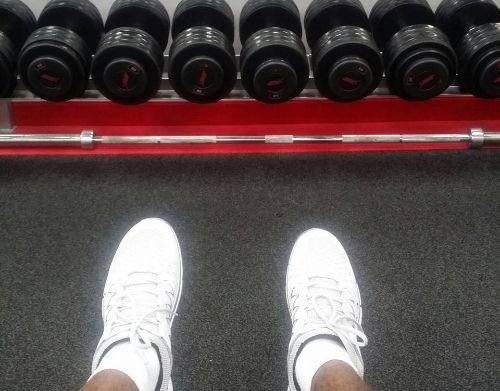 Uh oh, no more crutches, finally out of the walking boot and ready to leap tall buildings in a single bound… they call him TWO SHOES! Thanks Lewis Mcknight (my barber Holy Hands Barbershop) for the nickname! Well 2 out of the 3 above descriptions are true (leaping the building maybe a reach, lol) however I Thank GOD for the progress and His continued healing and for your prayers.
Wow, what can I say, I am finally out of the boot and into two shoes! After 2.5 months, the boot is off and all of my left shoes are screaming for joy. The doctor stated that when I am in a crowd place, I may want to have it on just for protection but for the most part, have at it, break those left shoes back in. I still have a slight limp but my therapist and doctor both agreed that this is par for the course until I build up strength and flexibility to allow full movement in both my ankle and achilles.
This is a major step in the right direction and I am taking it all in, as well as every phase of my ATR recovery. I am thankful to have this blog to journal these breakthrough moments, to follow other's progress and share tips for recovery.  Thanks for reading this post and I ask you to please share your major breakthroughs no matter how small or large. Sooner or later, we will be back to 100% with our Achilles tendon and ready to take on the world in front of us.
Make it HAPPEN!!!
P. "Action" Jackson
pjackson@theactiononline.com
P.S. Need a little motivation to get you started on living your life? This book, Practical Action Tips for Go Getters, is a great step toward that journey. 
P.P. S. Here is a resource for your achilles tendon recovery.
The Action Online Group has teamed up with a few mastermind groups made up
of Leaders in many fields, Top Internet Marketers, Offline Marketers, 6 & 7 Figure
Income Earners!
Below are some of the benefits that is offered through our Partner
teams for driven persons and leaders, interested in my primary online business for
making multiple income streams.
Weekly Team Updates!
Think and Grow Rich Morning Mindset Call (8am CST – 712-432-0900 Access Code 565762#)
Team Training via Google Hangouts and Webinars
Information reference source: Loss Letterman #1 Source for College Sports
Income Disclaimer:Income results are not guaranteed and Your success
depends upon your skills, work effort, and market conditions.
We do not guarantee any level of income or success.