Physical Therapy was a Blast all for One Day!
Well here I am checking in with you during week 6 and on last week I was in for a Big surprise… Physical therapy. I visited my doctor a week ago after checking my leg, he advised me to work on getting more range of motion in my ankle. He also asked me to wait 2 days and then take out one heel wedge in my boot to stretch out the achilles a little more. Before I left his office, he handed me a Prescription for setting up my physical therapy and requested that I call and get everything setup.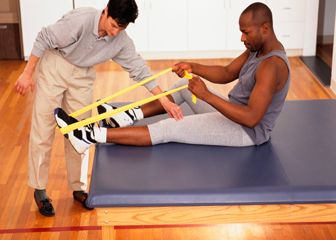 Fast forward a few days and I called and set everything up to go in on Friday for an evaluation and get the ball rolling. I went to the physical therapist office, completed some paperwork, met with the therapist, took off my boot for the evaluation and after a few stretches, the therapist asked me to do a few exercises such as heel lifts, pick up some marbles with my toes and drop in a bowl, write the alphabets with my foot to work on the range of motion, etc… I did great!
Now being all excited, I called my doctor to give him the news and after going through my activity at the physical therapist office, my doctor's office manager told me to WAIT before I started the actual therapy until I come back to the doctor for my next appointment in two weeks. I was disappointed at first because I felt I did good with therapy and I had booked the next 30 days with time and appointments. However I have to keep in mind, that this is a lengthy journey of healing that I am on and for me to get back to working out strong and hopefully not suffer any re-ruptures and long term damage, I need to take my time and go through the proper process that my doctor ordered.
A few days after therapy, my achilles tendon area is very sore, I mean very tender to the touch. While I was going through that one therapy session, everything felt good however now I am almost kicking myself because it felt like I may have pushed it a little too far and now I am left to deal with some "unnecessary pain in that area.
Well, I have 2 weeks to continue icing my foot down, taking the last heel wedge out and being careful with my activity until my next doctor appointment. Until then, I will say, get a full and complete understanding as to when you should start your physical therapy. Even if your doctor give you a prescription for physical therapy, it is likely to be for the setup of the initial evaluation and nothing more or nothing less.
Be STRONG!
P. Jackson – The Action Online
Connect with me by email at pjackson@theactiononline.com
P.S. I know this ATR can slow down the best of us and make us get off of our A game, here is a book, Practical Action Tips, that can inspire you back to action!
The Action Online Group has teamed up with a few mastermind groups made up
of Leaders in many fields, Top Internet Marketers, Offline Marketers, 6 & 7 Figure
Income Earners!
Below are some of the benefits that is offered through our Partner
teams for driven persons and leaders, interested in my primary online business for
making multiple income streams.
Weekly Team Updates!
Think and Grow Rich Morning Mindset Call (8am CST – 712-432-0900 Access Code 565762#)
Team Training via Google Hangouts and Webinars
Information reference source: Loss Letterman #1 Source for College Sports
Income Disclaimer: Income results are not guaranteed and Your success
depends upon your skills, work effort, and market conditions.
We do not guarantee any level of income or success.